W.B. Johnston



Welcome to the amazing images of renowned Photoshop artist, W.B. Johnston. An award winning artist and illustrator, W.B.'s images have been published around the world.

W.B. Johnston's artwork has been sought out by a diverse array of clients, including; Microprose Software, Bristol Aerospace, The National Geographic Society, Sadlier Publishing, General Media, Rogers Publishing, Labatt Breweries, Scholastic Publications, McGraw Hill Publishing, Penthouse Magazine and many others. W.B.'s work has illuminated advertisements, textbooks, magazine, packaging, web sites, signage and more.

For many years, W.B. was known for his eye catching airbrush illustrations, mainly using Iwata Airbrushes and ComArt Acrylics on Crescent Art Papers and Illustration Surfaces. With the coming of the digital age, W.B. traded in his trusty airbrushes for a mouse and digital tablet, using Adobe Photoshop, Macromedia FreeHand and Corel Painter in place of paint. W.B. Johnston's creative imagery has translated well to the new media, elevating W.B. to the pinnacle of Photoshop artistry.

WB's artwork has been honoured by The Japan Creators Association, Airbrush Action, G.D.I.C., C.A.P.I.C., and others, appearing in shows and annual volumes produced by these organizations.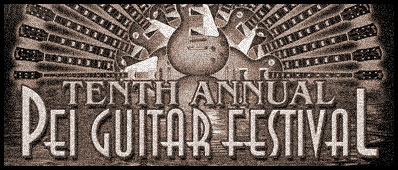 P.E.I Guitar Festival


W.B. Johnston is proud to be the designer and illustrator for the PEI Guitar Festival, creating posters, programs and the official website. Click on the image above to find out more about this festival. (W.B. will also be playing a few tunes once again this year!)


Photography


W.B. Johnston has now added photography, to his list of creative endeavors. Armed with a shiny new Nikon camera, WB captures images in a variety of places, whether belly down in a swamp, or strolling along the waterfront. These images are often taken into Photoshop where wondrous new creations emerge. Please contact W.B. Johnston at wb@wbjohnston.com to inquire about the availability of prints or reproduction rights to these images



Guitar Illustrations


Some of W.B. Johnston's more amazing recent images have been a series of guitars, including illustrations of Hamer Newports, Fender Stratocasters and Telecasters, Gibson Les Paul, and Paul Reed Smith Guitars. In fact,the attorneys for The Paul Reed Smith Company were concerned that W.B.'s illustrations look so real (thanks guys!) that folks might think he makes real PRS guitars. W.B. does not make real PRS guitars nor does he work for Paul Reed Smith.